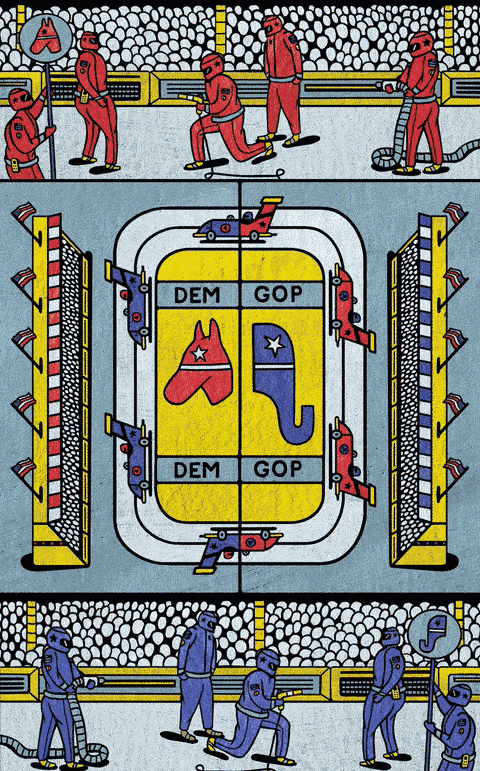 Credit: Illustration by Phil Wigglesworth
Over the last decade, the Republican Party has been America's top-selling brand. But many now see it as a lemon: a flashy coat of paint hiding an anemic, sputtering engine. As of May 2017, only 39 percent of Americans approved of the GOP, while 54 percent disapproved, according to Gallup. Millennials, likely the largest voting demographic in 2020, rate Republicans worse than any other group. If Republicans want to build a party for the future, they desperately need to rebrand.
While the brand of the current GOP is easily recognized, often in the form of a bright red hat, politics is more than merchandising. No flashy new logo or pithy slogan can repair the damage done. The GOP needs a return to patriotism, not as a slogan, but as a meaningful commitment to the ideals of liberty and equality, while transcending the Lincoln and Reagan Republicanism tropes of yesteryear.
First, the Republican Party must embrace radical inclusion—the idea that we are equal because we are human, no matter our class, color or creed. This is the self-evident truth on which our founders relied when they declared our independence. It must also be the prime principle in defining our new nation. The U.S. population will become "majority minority" in 2044, according to Census data. The GOP shouldn't fight that change, but rather protect those principles core to the American brand; equal rights and treatment for all.
Second, American ingenuity must be integral to our prosperity. The Republican Party must embrace technological progress that improves lives in every aspect, whether it's health care, transportation, energy or even education, where new models like apprenticeship programs and virtual schooling can prepare the workforce for the jobs of tomorrow. Regressive policies that give way to fear will only choke economic progress and disadvantage American competitiveness in the world.
Next, to unleash innovation, the Party must truly embrace economic freedom to expand the middle class. Republicans have long advocated for limited government, and reducing regulatory and tax code barriers will help new, creative solutions thrive. The GOP should replace anti-government dogma with a call for smart government that partners with the private sector on evidence-based solutions tailored to specific communities, towns and cities. The next generation of voters has grown up with on-demand services in the palms of their hands. They'll have no patience for today's plodding, intrusive and unreliable governance. Neither should we.
Finally, the party must kickstart a new era of civic engagement to strengthen our families, communities and country. The party must reject the politics of blame. Millennials don't think highly of political figures, but they do harbor an altruistic spirit and long to serve causes greater than their Instagram feeds. Technology won't replace the classic pillars of happiness: family, community, faith and/or vocation.
The Republican rebrand must be a rededication to a better future for all; something more profound than any legislative win. The brand should offer a welcome hand, inspiration, opportunity and the gift of a cause greater than oneself. It's an offering the founders and millennials alike would embrace.