Big Food is in big trouble as yesterday's brands no longer cut it with consumers. But Conagra has a plan to return to growth–and a long, hard road ahead
By Jessica Wohl
Illustration by Doug Chayka
Published on October 16, 2017
When many people think of Chef Boyardee pasta and Hunt's tomatoes, they recall dusty canned goods in their grandmother's pantry. Darren Serrao sees untapped potential.
Serrao is chief growth officer of Conagra, founded in 1919 as a Nebraska flour milling operation and today the marketer of tired-sounding brands such as Swiss Miss, Peter Pan and Orville Redenbacher's. He admits that some people look at the portfolio and have "a meh kind of reaction," but says they're making the mistake "of conflating the strength of the brands that we have in our portfolio with what they see as the products that might exist."
The problem, he adds, "is that in a number of cases, the products that represent those brands may be out of date. It has nothing to do with the strength of the brands and everything to do with the products that represent those brands."
But it will take more than gourmet Slim Jims and dairy-free Reddi-wip in almond and coconut milk flavors to turn Conagra around. The battle falls to Serrao and CEO Sean Connolly, who are working to fix a company that's the poster child for a packaged-foods industry out of step with today's consumers.
Big Food's pantry-fillers seem almost quaint at a time when consumers demand fresh fare with unique flavors. Delivery services such as FreshDirect, Instacart, Peapod, and a variety of meal kits, give people fewer reasons to wander the aisles of their local supermarkets. People also graze throughout the day and cook less, eliminating the need to keep freezers stuffed with chicken pot pies. And more than half—54 percent—of respondents in a recent Datassential poll perceived restaurant fare as healthier than packaged foods.
Into the old-brand time warp stepped Connolly and Serrao, who joined a bloated Conagra in 2015, which then had sales of $15.8 billion. Today, after shedding major assets, the company is about half that size, at $7.8 billion. This slimmer Conagra is convinced it's on the road to reinvention, even though it's a long one.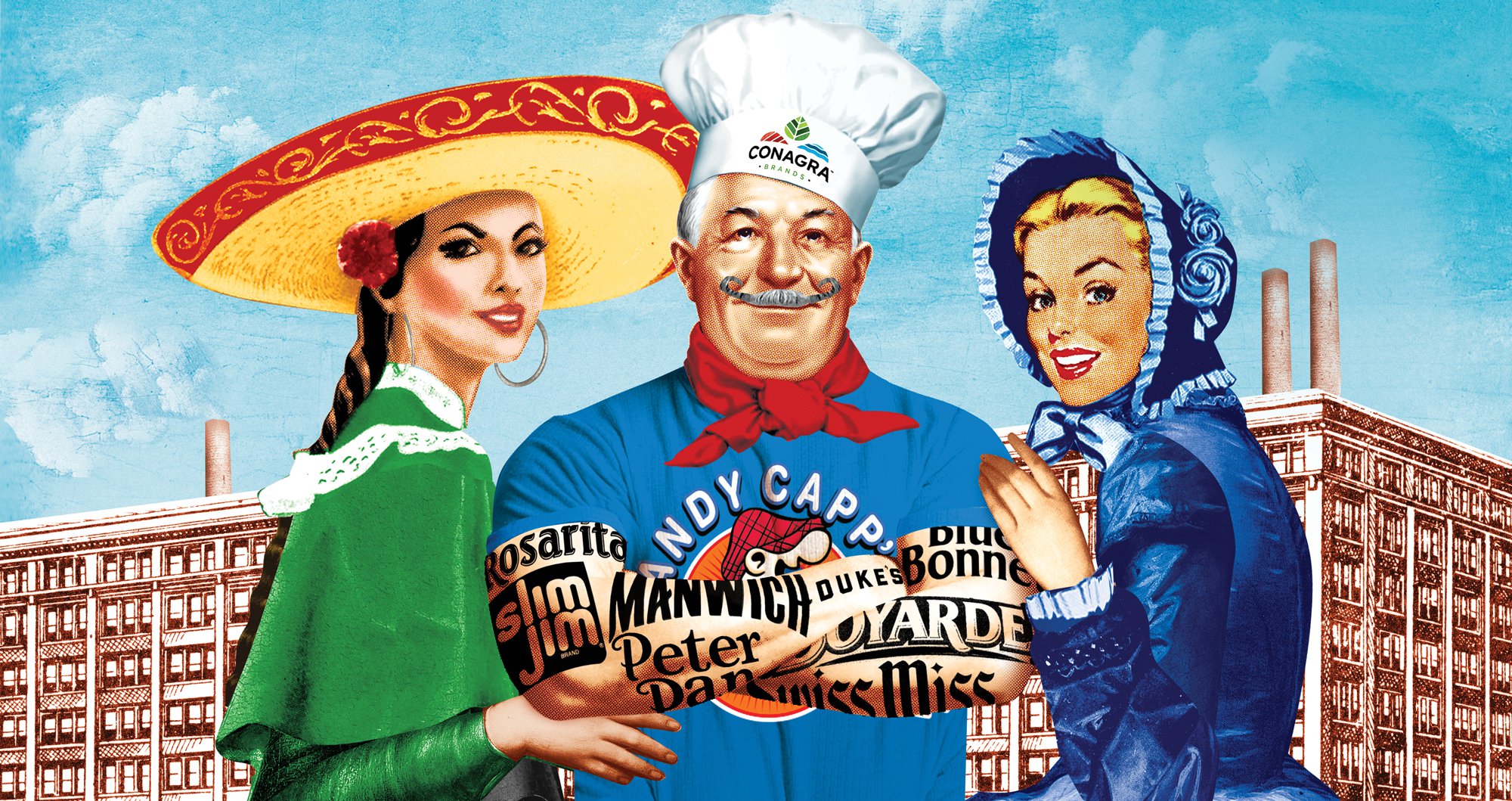 Sales in fiscal 2018, which runs through May, are expected to be down 2 percent to, at best, flat. While that sounds bleak, it's a significant improvement over Conagra's 9.7 percent sales falloff the prior year. For a legacy packaged-foods maker trying to remake itself, even a slim decline is progress. Its expected results would at least bring it in line with peers like General Mills, which expects sales to decline between 1 percent and 2 percent for the fiscal year ending in May, according to its most recent forecast.
"Everybody recognizes that there is still a lot of wood to chop and they are by no means done, they've got a long way to go," Ken Harris, managing partner at Cadent Consulting Group, says of those at Conagra. "They've moved further faster than most, but ironically, they would say they've got so much more to do. They're not even close yet."
Under Connolly's watch, Conagra has eliminated about 1,500 jobs in the pursuit of nimbleness. In all, about 20,000 fewer people work for Conagra now than in 2015, with the remainder of the reductions coming from divested companies. Conagra relocated its headquarters from Omaha to the 13th floor of Chicago's bustling Merchandise Mart in an effort to give teams, including marketing and insights, some urban energy. (It still maintains an Omaha office in Heartland of America Park.)
The company has renamed itself Conagra Brands from ConAgra Foods, a change meant to emphasize its focus on marketing branded foods. Conagra no longer sells private-label foods, those products sold under store-brand names, and got out of other behind-the-scenes food lines. To that end, it's spun off Lamb Weston and sold Spicetec Flavors & Seasonings and its JM Swank ingredients distribution business. In 2016, Conagra sold its Ralcorp private-label business to TreeHouse Foods, a competitor focused on non-name-brand foods, for about $2.7 billion. That might sound like a lot, but Connolly's predecessors paid $5 billion for it just three years earlier in what they'd billed as a "transformational" acquisition. Next up, it plans to sell its Wesson oil line.
Meanwhile, Conagra has been buying what it anticipates will be bigger hits, lines that might start small but could have better growth potential as more contemporary takes on packaged foods. Those include the Frontera brand started by chef Rick Bayless, the Blake's brand of natural and organic frozen meals and Thanasi Foods, the maker of Duke's meat snacks and Bigs seeds, competitors to Conagra's Slim Jim and David Seeds businesses. It's also buying Angie's Artisan Treats, which makes Boomchickapop bagged popcorn, a brand that's been gaining ground at Orville Redenbacher's expense.
One of the biggest bets is with Frontera, which already had salsas and items such as fajita seasoning sauces. In just a few months, Conagra added supermarket-distributed frozen meals and kits for dinners, such as chicken fajitas, jumping on the trend seen with the rise of services such as Blue Apron: people wanting to cook without too much effort.
In addition to the premium Slim Jims and Reddi-wip flavors, Conagra recently introduced a new line of Healthy Choice Power Bowls (see sidebar) and Pam non-aerosol spray cans. Those brands and others are cueing up new campaigns.
Healthy Choice energizes with Power Bowls
When Mike Harper had a heart attack in 1985, it led to a business worth hundreds of millions of dollars for Conagra. The radical notion of a lower-fat and lower-salt frozen food line, Healthy Choice, as championed by Harper, Conagra's then-CEO, took three years to develop.
"We used to believe that health and nutrition were about what food didn't have in it," says Tara Rozalowsky, brand director on Healthy Choice, referring to low-fat and low-calorie foods.
But times and health trends change. And while Healthy Choice is Conagra Brands' third-largest frozen food line, millennials "define healthy very differently," looking at things such as where ingredients come from, how the animals are being treated and whether there are vegetarian choices and sufficient protein, says Bob Nolan, Conagra's senior VP of insights and analytics.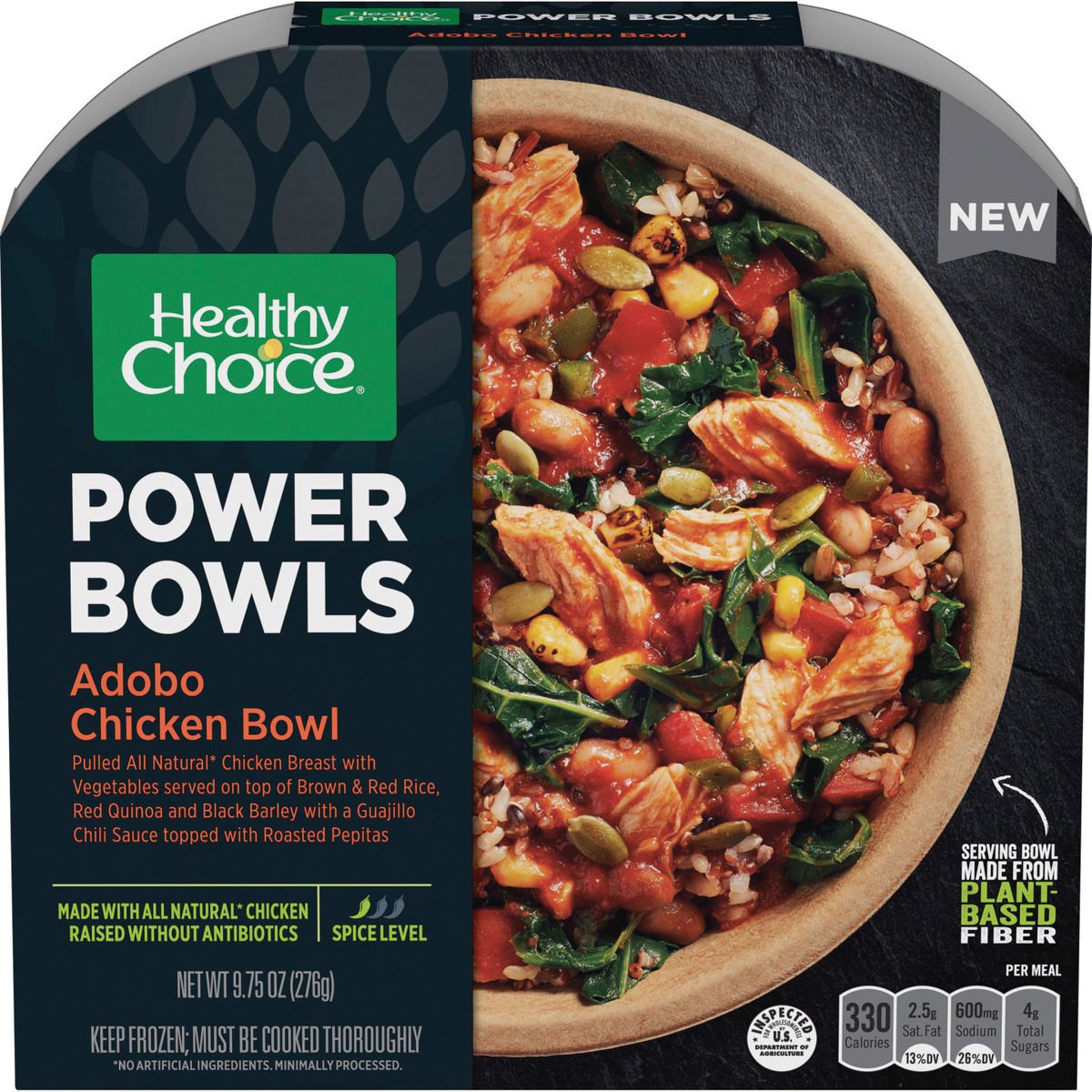 So Healthy Choice is getting a bit more on-trend with Power Bowls, which began hitting stores in May.
They have bolder flavors, such as Korean-inspired beef, and more up-to-date ingredients such as kale and quinoa. They even come in plant-based fiber bowls.
And they cost more, with prices close to $4 per meal, about $1 more than other Healthy Choice items, giving Conagra the opportunity to beef up its revenue.
Rivals, including Nestlé's Lean Cuisine and Kraft Heinz's SmartOnes, are responding to broader health and wellness trends as well. Today's frozen-food competition also includes smaller brands such as Evol ("Love" spelled backward), which have rolled out meals with pronounceable ingredients and more on-trend flavors.
Sales of Healthy Choice frozen dinners and entrees rose 3 percent to $383.3 million in the 52 weeks ended Sept. 10, aided by some higher prices, as the number of items sold fell 1 percent, according to IRI data.
Conagra Chief Growth Officer Darren Serrao is not too stressed about the competition. "Emerging brands have products people want and brands nobody knows," he says. "I'll take the former over the latter every day of the week."
When Bob Nolan, senior VP of insights and analytics, joined Conagra in 2012 after years at PepsiCo, the insights team was doing validation work, checking after products were already created whether people would be interested in buying them. Now, instead of using data to reinforce marketing decisions, the company is using data at the beginning of the process to inform the marketing.
"What made you successful today is the worst possible thing that will make you a failure in the future," says Nolan. "It's easy to get comfortable, saying, 'We've always done this.'"
His team no longer considers its competition to be just the other foods people can get in grocery stores. They recently started getting data from Spins, which tracks the natural food industry, and they more closely monitor restaurant trends. Nolan has gone to the Consumer Electronics Show for a couple of years seeking inspiration and is walking the walk by wearing a fitness tracker on each of his wrists to monitor his own health like consumers do. And in addition to consumers, his team meets with tech entrepreneurs and chefs.
"What made you successful today is the worst possible thing that will make you a failure in the future. It's easy to get comfortable, saying, 'We've always done this.'"
Bob Nolan, Conagra
Nolan and others admit the broader industry and Conagra itself had some major catching up to do to meet the demands of consumers today and into the future.
"We wanted to make one thing, we'd sell it everywhere to everybody," Nolan says of the food industry. "And that's not the paradigm. We want to sell the right food for the right folks at the right time." It's a balancing act. Conagra can't eliminate everything that doesn't seem to be the hottest, newest dish. Case in point: Conagra sells more Banquet frozen meals than any other item. Banquet is Conagra's second-largest frozen brand in dollar terms, behind Marie Callender's and ahead of Healthy Choice. "Banquet is a big, important brand to a lot of people," says Serrao.
So Conagra is modernizing by adding Banquet Mega Bowls. The bowls are more reminiscent of a fast-food restaurant dish, which gives the product both a more current feel and a higher margin. The company had already raised the price of Banquet to around $1.25, up from its longstanding $1 price. Banquet Mega Bowls should sell for just over $2.
There are risks upgrading lines such as Banquet. As Conagra raised some prices and curbed its heavy use of coupons, volume in its refrigerated and frozen units fell 8 percent in 2016 and 9 percent in 2017, notes Morningstar analyst Erin Lash.
"Some of it obviously was intentional," Lash says of the declines, "but if that erosion doesn't start to decelerate I think that's maybe a little bit more evidence that they're dealing with very price-sensitive consumers and that trading them up could prove a lot more difficult."
The recent first quarter of fiscal 2018 showed some momentum: Refrigerated and frozen volume rose 1 percent, driven by Marie Callender's, Healthy Choice and Frontera.
Convincing shoppers to pay more will fall to marketing. Many at Conagra speak about the "jobs to be done" theory discussed by Harvard Business School professor Clayton Christensen, in which every product offers a solution for a job, or a problem. Products compete against others that could solve the need.
For example, someone looking for a quick weeknight meal might stop at a restaurant such as McDonald's, heat up frozen food or cook from scratch. Those options would all solve the problem.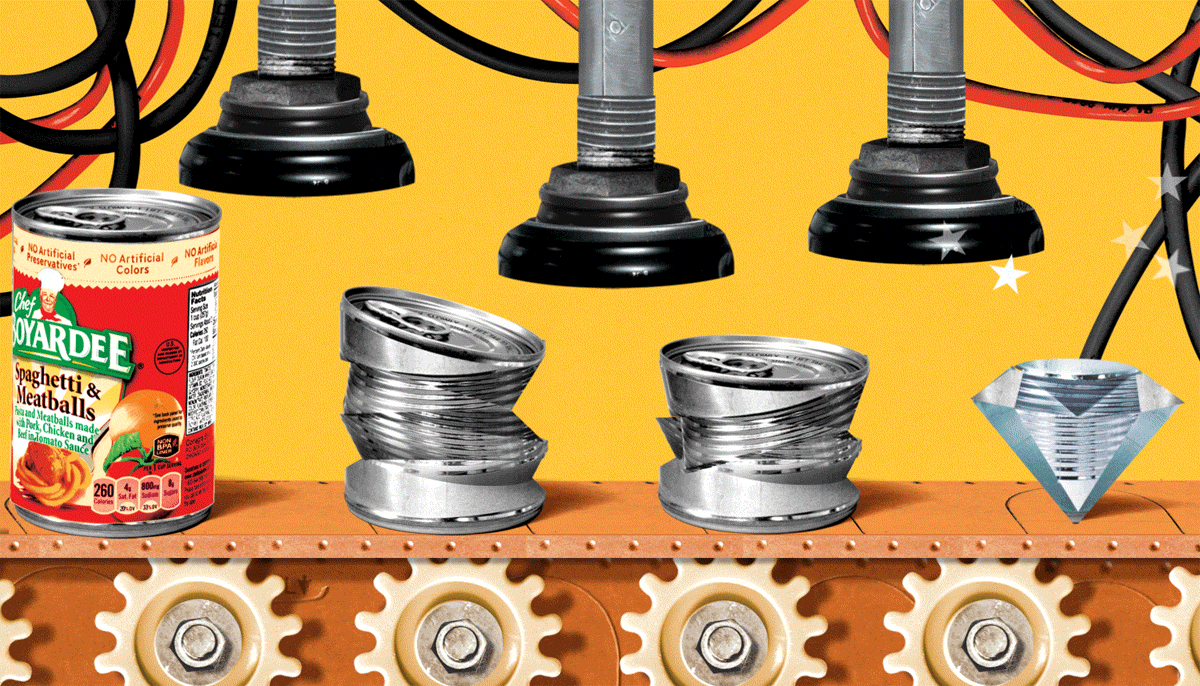 "We have to do something better than everybody else does to get hired. It's not a less competitive world. It's like 10 times more competitive just in the last 10 years than it was 50 years ago," Nolan says. Most of Conagra's brands can have multiple jobs. P.F. Chang's sauces and frozen meals, for example, might appeal to people looking for quick dinners, those who want to try new flavors but don't have the culinary skills to make Chinese food on their own, or those who want to cut down on the higher costs of restaurant takeout. Conagra is now creating marketing drawing directly on those insights, rather than taking a one-size-fits-all approach.
Its two main agencies, DDB Chicago and Match Marketing Group, are producing marketing that can be tinkered with once it's out, to change rotation or strategic direction depending on how it performs. Spark Foundry handles media for both. The agencies make multiple ads aimed at various target audiences rather than relying on a single TV commercial meant to cater to everyone. Leaders from DDB and Match say they often meet with Connolly and Serrao, not just with people working on specific brands.
"There's an unbelievable appetite for change and transformation at an organization that—I'll be honest—I had a perception there would be a little [reticence]," says Andrew Kasprzycki, who came to DDB earlier this year as exec VP and global client lead. "I was curious how much the marketplace rhetoric was really taking hold." DDB moved the Conagra account from San Francisco to Chicago to be closer to the client. Conagra is now one of the Chicago agency's top three accounts, with brands including Reddi-wip, Marie Callender's, Pam, Hunt's, Ro-tel and Hebrew National.
Match, meanwhile, was working on some Conagra brands and acquired Trisect, another Conagra agency, in December. Now, Match teams in Chicago and Norwalk, Connecticut, work on brands including Healthy Choice, Bertolli, Frontera and Orville Redenbacher's. Match President and CEO Michael Dill likens the approach—preparing multiple pieces of content rather than a single TV campaign—to having a mutual fund instead of buying an individual stock "and hoping it goes up."
But for all its heavy lifting so far, Conagra remains a long-term work in progress. "These brands can't change themselves fast enough to become immediately relevant with consumers," says Match's Dill. For a consumer packaged goods company that is "classic," he says, "they're very progressive with what they want to do." 
Video by David Hall. Web production by Chen Wu.