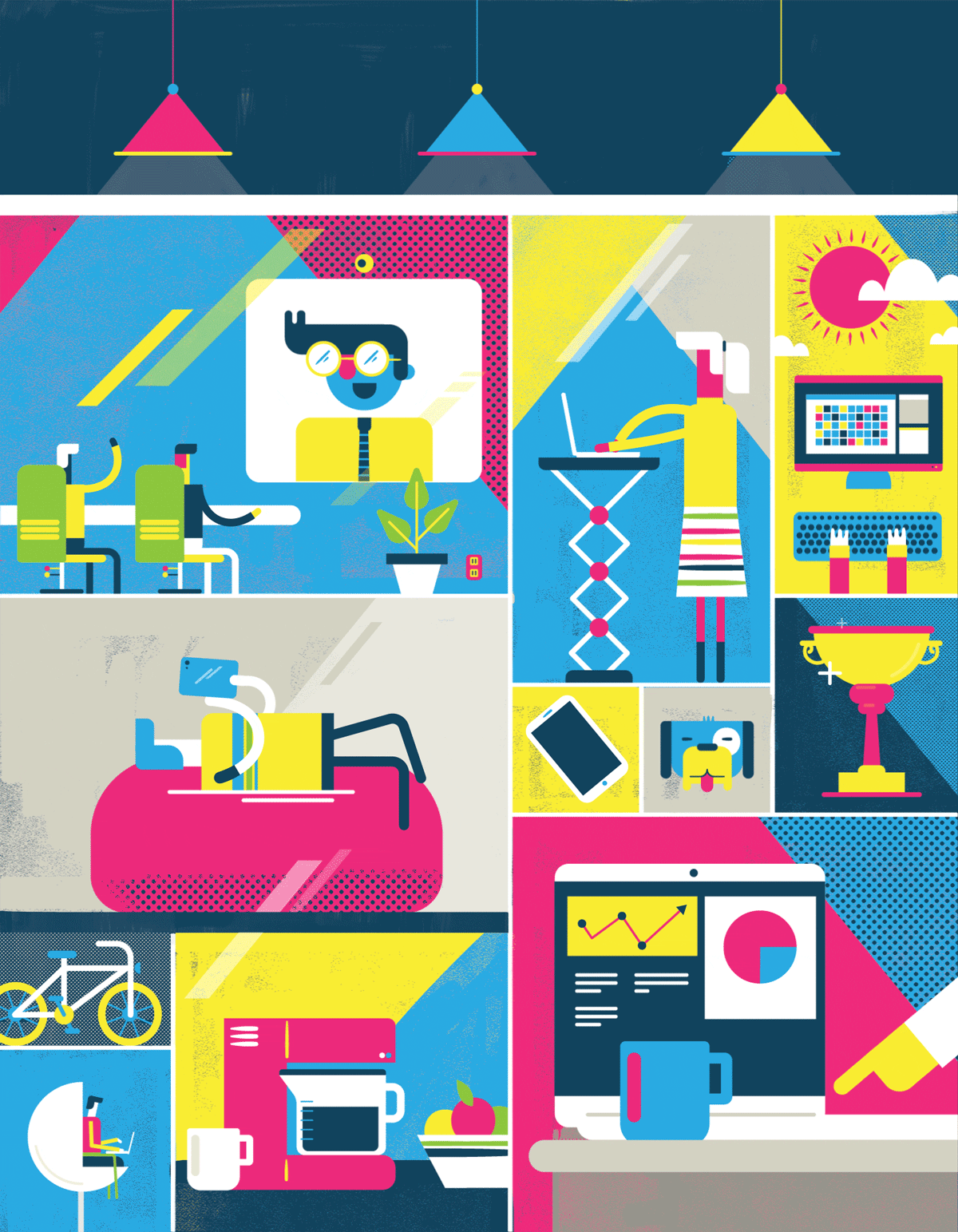 Illustration by Shaw Nielsen
Published on November 13, 2017
N0. 1: CHoozle
By George Slefo
After graduating from Vanderblit University in 1998, Andrew Fischer headed west to pursue a career in finance at Merrill Lynch in San Francisco. Just two weeks later, he ditched global investment banking for ad tech, or as he says without irony, "I followed where the money was going."
After bouncing around several startups, he eventually co-founded Choozle with internet entrepreneur Jeffrey Finch. The Denver-based ad tech company has carved itself a slice of the $73 billion digital ad market with a self-serve platform that allows agencies to purchase digital ads online. It's also carved itself a reputation as a great employer, earning Choozle the No. 1 slot on Ad Age's Best Places to Work list.
"We launched Choozle nearly five years ago and the thesis was, we saw ad technology evolving quickly and there was a huge promise with data and programmatic, but it was still unattainable for a lot of clients," says Fischer. So Choozle's niche is small to midsize agencies that don't want to commit to the long-term contracts or $50,000 minimum ad buys common at larger outfits. Fischer says revenue last year at the privately held company was $9 million, and it added offices this year in London, Seattle and, yes, San Francisco.
The company, which now has 275 clients, is sharing its success with its 58 employees. Workers get paternity leave (in addition to maternity, of course), weekly team lunches, birthday treats and quarterly happy hours. Pets roam the office.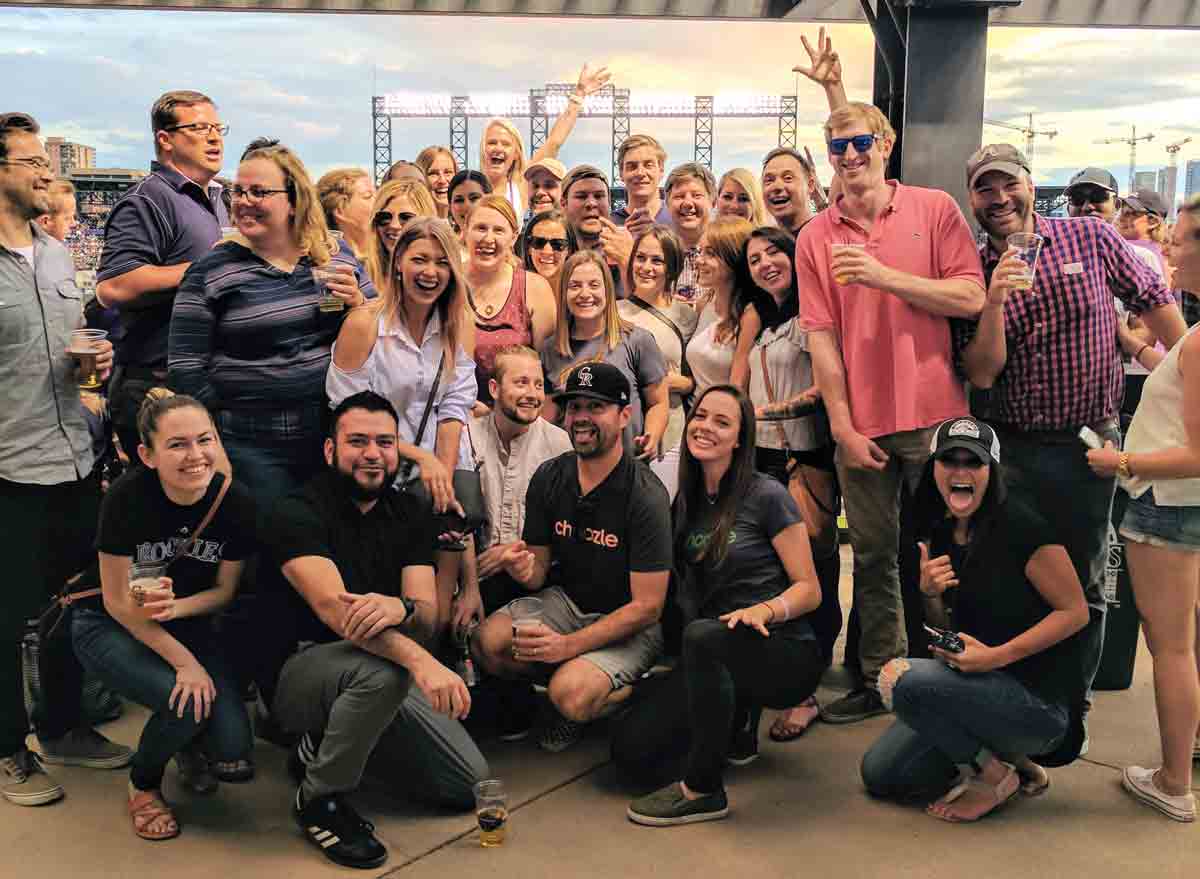 The Choozle team. Credit: Courtesy of Choozle
Choozle also takes employees on twice-yearly trips to the resort town of Breckenridge, Colorado. Kirk Nicklaus, a 27-year-old business intelligence manager at Choozle, says his most memorable moment at the company came during one of those all-expense-paid trips (three days and two nights), which included horseback riding, dogsledding, golfing and relaxing at a spa.
"One night, we went to the oldest bar in Colorado, the Gold Pan Saloon," Nicklaus says. "We had 45 people rocking" and singing karaoke. (Nicklaus performed "Picture" by Kid Rock.)
Choozle also opens staffers' horizons in other ways with two monthly stipends: one for educational endeavors and the other for well-being.
Megan Sullivan-Jenks, Choozle's director of communications and employee No. 2, says she used her stipend to take public-speaking classes. "It led me to apply and be accepted in CentHER Stage," she says, referring to a keynote speaker bootcamp for women who work in digital marketing. Another ad-ops employee used his stipend to finish his degree in computer information.
Others use their allotment for cooking classes, learning a new language, skiing, yoga or just going out and grabbing drinks with co-workers.
"There are always things you want to do, but without the motivation or resources, you don't do it," says Fischer.
"One of our core values is around balance," he adds. "We're a hard-charging organization, we love winning and we love growing, but I think we all have the perspective that we're not solving an important issue like poverty or hunger, so we take it with a grain of salt."
Fischer says being located in Colorado has done wonders for recruiting and retaining employees, especially as Denver has evolved into a tech and startup hub. But that's not the only reason. "Our geographical location is one of our crucial assets—whether it is recruiting talent or retaining talent, it's a big part of who we are," Fischer says. "There are fewer people in our office when there are powder days. ... I think there's a correlation there."
Read more
Web production by Chen Wu.